The Québec City area is full of beautiful waterfalls that amaze anyone who loves nature, taking pictures, seeking adventure, and admiring landscapes. Each waterfall has its own unique and stunning features waiting to be explored when renting a chalet near Quebec!
Here are the best waterfalls to see in Québec City:
1. Canyon Sainte-Anne Falls
The Sainte‑Anne‑du‑Nord River cascades majestically from a towering height of over 243 feet, creating a stunning waterfall in its wake. A pathway winds its way alongside the canyon, with three bridges suspended over the expanse, allowing visitors to peek down into the ancient abyss from above. These rockfaces have been around for an astonishing 1.2 billion years and are accessible for those with reduced mobility.
2. Delaney Falls
Delaney Falls is situated in the Vallée Bras-du-Nord and is perfect for people who love the outdoors. The falls are eight kilometres from the starting point, and you can take a scenic hike or cycle along the river to get there. Take a leisurely paddle down the Bras-du-Nord River and experience a picturesque view of the majestic Delaney Falls and the mountain range surrounding it. Enjoy a peaceful and calming journey while you canoe or kayak.
3. Montmorency Falls
Situated just outside Québec City, Montmorency Falls is an awe-inspiring sight. It's a whopping 83 metres (272 ft.) tall, dwarfing Niagara Falls in size at 30 metres (nearly 100 ft.) taller. Montmorency Falls Park promises a great day out for the family with many activities and attractions.
You can go to the waterfalls, ride the cable car to the top for a great view and, for a challenge, take the Ferrata cableway along the rock face with a professional guide. In the winter, the mist from the falls creates an ice cone at the bottom known as a sugar loaf or pain de sucre.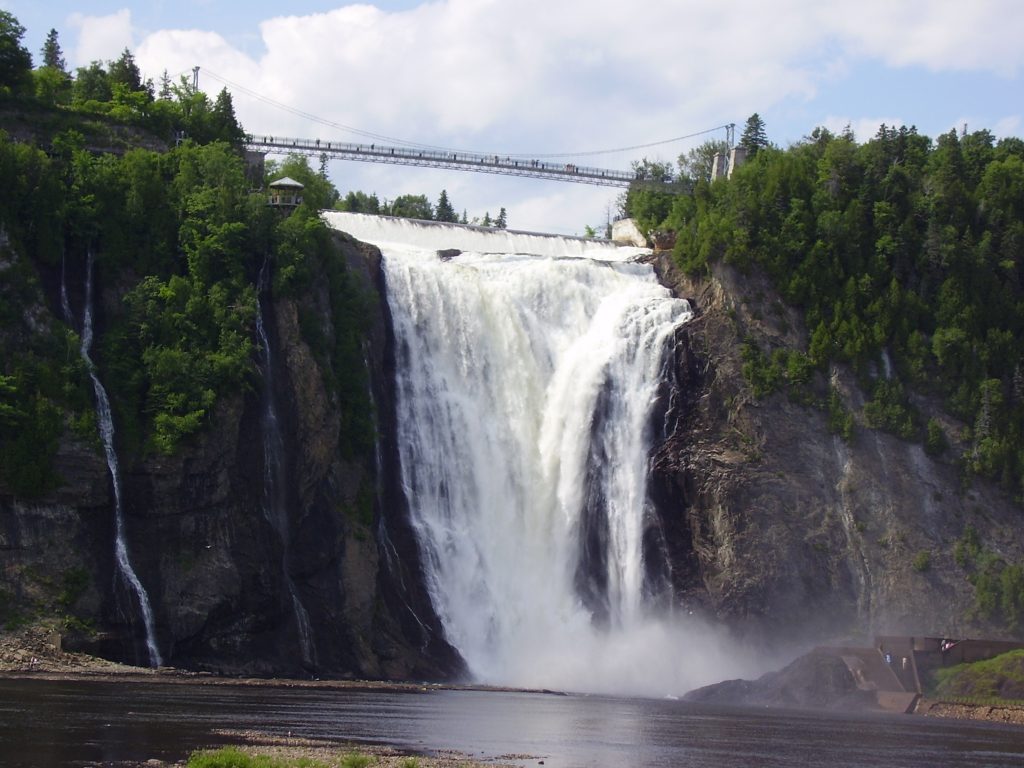 4. Kabir Kouba Falls
Kabir Kouba Falls is a beautiful area located where the rich soil of the Lower St. Lawrence River meets the Canadian Shield. It is an interesting area full of geological features such as huge glacial rocks, deep potholes, and fossils that have been around longer than dinosaurs. There is a path that stretches for 1.5km along the Saint-Charles River. Explore the traditions of the Huron-Wendat people by visiting Wendake.
5. Jean-Larose Falls
At the base of the Mont-Sainte-Anne ski area lies a hidden gem, Jean-Larose Falls. The main drop of this breathtaking triple waterfall is an astonishing 41 metres (134 ft.) tall. You'll have to take a trek down 350 stairs to reach it, but there are rest stops on the way up and down. This is a great location to try canyoning. You can plunge 22 feet (seven metres) into the waterfall basin if you want.
6. Chaudière Falls
Visiting this waterfall offers a great experience. You can take in the amazing views from a series of lookout points and a bridge suspended over the falls. There are also plenty of areas for a picnic and 4.5 km of trails for walking. Explore this incredible natural wonder and enjoy the breathtaking scenery!
Make the most of your visit to this beautiful area and explore the Parcours des Anses bike path. Starting in Parc des Chutes-de-la-Chaudière, this route will take you to Lévis and offer breathtaking views of Québec City and the St. Lawrence River. Enjoy the journey!
Conclusion
Québec City is home to many stunning waterfalls that offer a truly remarkable sight. From the impressive Montmorency Falls to the beautiful Chute Jean-Larose, there is no shortage of breathtaking natural wonders to explore in the area. Each of these waterfalls offers a unique experience; some with stunning views, while others with swimming, hiking, and camping opportunities. With such an abundance of stunning waterfalls, visitors to Québec City are sure to have a memorable experience.
WeChalet connects you with unique homes, condos and cottages for rent in nature. Our mission is to connect you together to nature, to appreciate its beauty and its importance, and to accelerate the call to protect the Earth that we all share. If you're looking for a cabin for rent in Québec, look no further than WeChalet! Browse our vacation rentals now!