My name is Dany Papineau, and I'm the founder of WeChalet. Our mission is to connect people together in nature, and I believe that understanding my life journey will help you better understand what went into creating our unique platform for renting properties in nature.
Me pitching WeChalet on the Quebec "Dragon's Den" show in 2022.
Did we strike a deal? Click on the picture to find out.
Connecting with Loved Ones in Nature
Born and raised in the Eastern Townships of Quebec, I have always had a passion for nature.
In my youth, my grandparents had a farm located behind the Bromont ski mountain where I spent most of my time outdoors with our family, exploring the vast acres of land that they had.
We were a large group of cousins who were all around the same age, and we would often come together with our aunts, uncles, and grandparents to lend a hand with the farm chores.
In the summer we spent our days in the sun cutting hay and milking the cows, while in the winter we chopped wood and snowmobiled in the snowy fields. In the spring, we celebrated the warmer days at the family sugar shack by eating taffy and pancakes with maple syrup, coming back from racing outside with our ATVs in the mud.
It was a lot of fun, but it was also a lot of hard work, and it taught us the importance of spending time together with my family in nature.
My University Years in Civil Engineering in Sherbrooke
At 21 years old, I did not speak English, I did not really know what I wanted to do of my life.
I was studying civil engineering at the University of Sherbrooke and had started working on construction sites during the summer. Although I enjoyed working outdoors on road construction projects in the summer sun, I soon realized that was not my passion.
While working at a gas station on weekends in the fall, a co-worker who had recently returned from traveling showed me her pictures from her last summer spent in Banff, Alberta.
She had gone there to learn English, and the photos she took were absolutely stunning. They were filled with beautiful mountain landscapes, exciting outdoors adventures, and they sparked a desire in me to see this amazing place for myself.
So I got a group of three friends from class together to hit the road, and embark on an epic road trip to spend one summer at the heart of the Canadian Rockies with the goal of improving our English skills.
What I didn't realize at the time was that my journey to Banff would set me on a path to create WeChalet.
My Life-Changing Journey to Banff
Driving to Banff from Quebec was a long drive, covering close to 4000km or about 40 hours of driving.
At that time in my life, I had never taken a plane or much traveled outside of Quebec. It was also my first time leaving home and being away from my family for several months.
As a broke student, I had saved up around $1000, and I wanted to make the most of it.
To save money, we decided to drive to Banff instead of flying, and to use my rusty 1987 Volkswagen Jetta for road trip adventures once we arrived.
Back then, we had no internet and no cell phones, and there was no social media to keep in touch with friends and loved ones. If we wanted to update our families, we had to write letters by mail, send faxes or make reverse calls from a phone booth, which were very expensive for our parents.
As climbed into my Volks, I remember crying as I hugged my parents goodbye but I sure was excited for the adventure and the new experiences that awaited me as we pulled out of the driveway.
After four days of driving, we arrived in Alberta and determined to find work as soon as possible.
Working at a Tourist-Friendly Ranch in Alberta
We were lucky to find a job at a touristic ranch located at the foot of the majestic Rocky Mountains. This ranch was well-known for hosting travelers from all over the world, and we were excited to be a part of the team.
The ranch had a restaurant and offered accommodation with small nature cabins.
So I worked as a waiter during meal times and spent the rest of the day helping out with the horses. I enjoyed being able to work with both people and animals, while spending the sunny days of summer outdoors.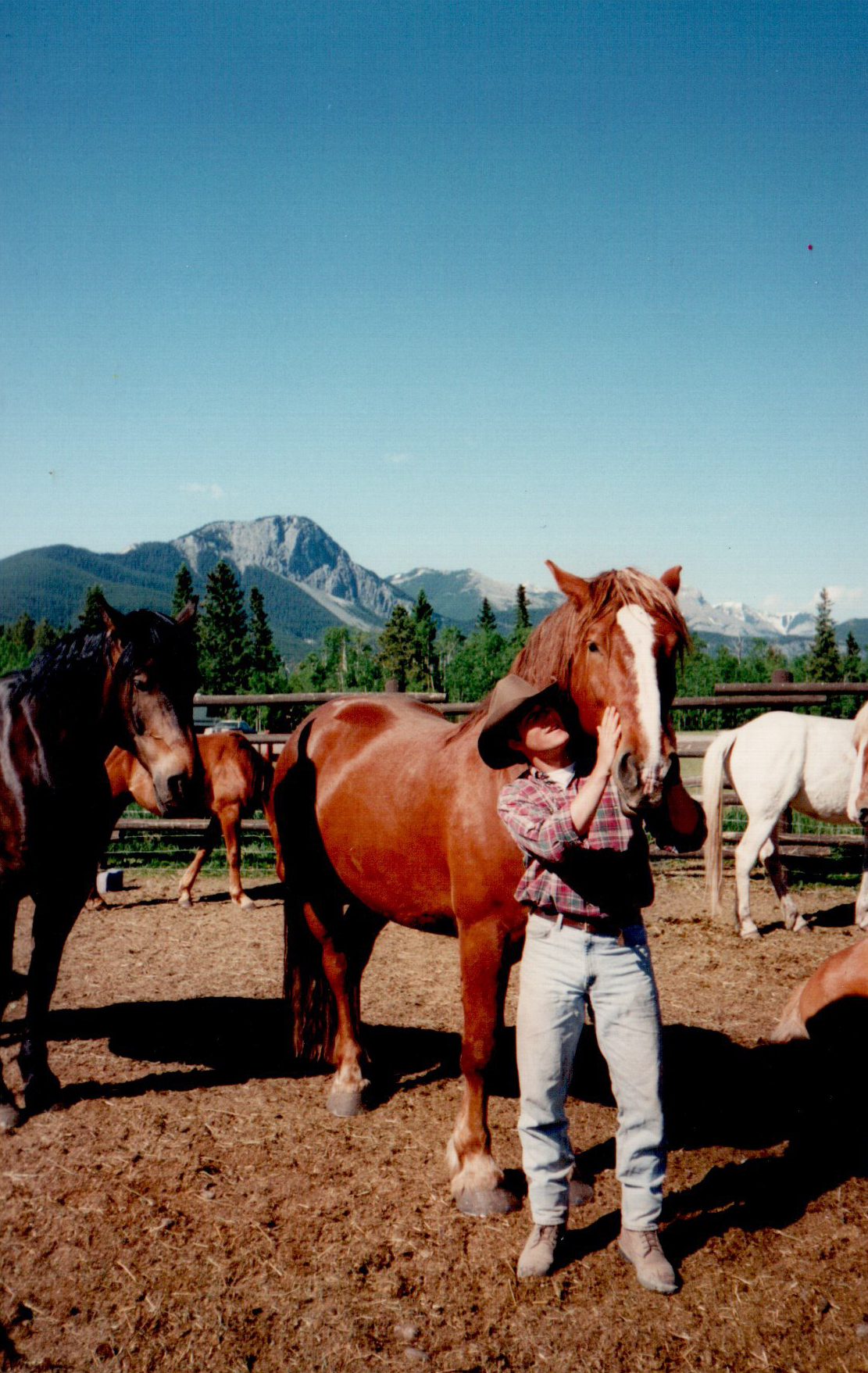 I still remember my first day as a waiter at the ranch, and the feeling of nervousness and excitement as I approached my first customers. I didn't know a word of English at the time, so I nervously handed them the menu and then quickly retreated, unsure of what to say.
As the summer went by, I began to lose my shyness and improve my English and I also spent a lot of time with friends, engaging in a variety of outdoor activities.
We hiked, camped, and explored the beautiful natural surroundings of Banff National Park. We went caving, rafting and kayaking on the Bow River, and we took scenic road trips through the glaciers of the Canadian Rockies.
Back in the day, no one had smartphones, so I bought an 8mm video camera and a 35mm photo camera and started to make films and photos for my family.
It was a lot of fun, and it allowed me to capture and share the incredible experiences that I was having on my travels.
There was no Youtube so I would send the films back to my family on VHS cassettes by mail, and they would be so excited to see them and to learn about my adventures.
It was a great way to stay connected, and it allowed me to share my experiences with the people I loved in a way that was much more personal and meaningful than just sending a postcard or a letter.
My amateur films were so "cool" that my sister and my cousin decided to take the plane in the middle of summer to come work with me at the ranch.
By the end of the summer, I had discovered a passion for film, photography and travel that I had never known before.
Leaving University to Explore the World
I was originally planning to return to school in late August, but after my sister and cousin returned home, I decided to drop out of university and continue traveling. It was a difficult and risky decision, but ultimately, it turned out to be the best choice I've ever made.
I ended up spending two years in Banff, working at the ranch in the summer and as a ski instructor and bartender at local ski resorts during winters.
Between ski seasons, I felt the urge to continue exploring and experiencing new places.
So I went on different road trips across North America, traveling in my car to discover new places like Oregon, California, Mexico along the way.
Since then, I have been fortunate enough to travel to many countries, including Canada, the United States, Mexico, Cuba, Brazil, Colombia, France, Spain, England, Germany, Thailand, India, New Zealand, and China.
I want to continue to travel.
Despite the passage of time, I look back on my time spent in Banff as a defining moment in my life that is directly linked to our mission of connecting people together in nature with WeChalet.
My 20-Year Journey in the Film Business
After traveling back and forth between Quebec, the Rockies, Montreal and various destinations, I finally landed in Vancouver, a city renowned for its stunning natural beauty.
Having a discovered a passion for film and photography, I enrolled in a yearlong program at the Vancouver Film School, where after graduating, I began working on a semi-autobiographical film called 2 Frogs in the West.
In parallel, I also started working in the film and TV industry, I had the opportunity to work on a number of Hollywood film sets that were shooting in Canada, both in Vancouver and Montreal. This was an incredibly exciting and rewarding experience for me, as I was able to be a part of the magic of filmmaking and contribute to the creation of some truly iconic movies.
Over the course of my life, I worked 20 years in the film industry on a wide variety of projects, from big-budget blockbusters to smaller independent films, and I was able to learn from and collaborate with some of the most talented and experienced professionals in the business.
It was quite the journey, and you can see my IMDB profil here.
Making my own Film 2 Frogs in the West
Ultimately, this journey lead me to bring my own feature film to life.
This film was a labor of love, and I spent ten years of my life writing, shooting, producing and distributing it.
The experience was both rewarding and challenging, and it taught me valuable lessons that would be useful for WeChalet about hard work, persistence, and the power of passion.
2 Frogs in the West stars Mirianne Brulé as Marie, a restless young woman from Quebec who decides to drop out of university and hitchhike west to Whistler, British Columbia on a voyage of self-discovery.
Her journey to British Columbia is not an easy one and after finally arriving in Whistler, she meets a young Quebecer, JF (played by myself), who has lived in the region for 10 years. JF will introduce her to his roommates and to his love for nature for the mountains. Of course, the movie takes place in a big log cabin in Whistler.
Here's the trailer if your curious about it:
The film was presented in multiple International film festivals and was chosen to close the 2010 Whistler Film Festival were it won the festival's Best Mountain Culture Film award.
Creating this film was a challenging and demanding process that required self-financing and almost pushed me to the brink of bankruptcy.
To my knowledge, no film on this subject had ever been produced in the Canadian filmmaking scene, and I was determined to bring my unique vision to life.
Looking back,making 2 Frogs in the West helped prepare me for the challenges of launching WeChalet, which until recently, was also self-financed. The skills and lessons I learned from creating the film proved invaluable in helping me navigate the challenges of building a tech startup, which had to survive for 2 years without funding, in the midst of Covid.
By the time the film was completed and self-distributed around the world, I was exhausted, broke, and burnt out. I had moved back to Quebec and wanted to spend some time in nature, surrounded by friends who had helped me with the project.
Renting Out my First Chalet in Quebec
I had never rented a chalet for myself before, and I was surprised to learn that Quebec has a large market for chalet rentals, especially in the Eastern Townships, where I was born. As I began the process of renting a cabin, I quickly realized that it was more challenging than I had anticipated.
The Quebec chalet rental websites were outdated and lacked the ability to make transactions, while global platforms focused mainly on urban property rentals.
After sending numerous emails to cottage owners over several weeks, I finally found a great log cabin located in Mansonville, near Owl's Head mountain in Quebec.
This frustrating booking experience is what ultimately inspired me to create WeChalet, a platform that makes it easy for people to find and book their ideal nature getaway.
I bought the url www.wechalet.com for 10$ and the rest is history.
Dreaming of Owning a Chalet to Founding WeChalet
Renting this cabin made me dream of owning my own chalet in the mountains, surrounded by beautiful natural scenery and fresh, crisp air. I wanted something close to skiing and hiking, and where we could spend our evenings cozied up by the fire with beer or a cup of hot chocolate.
For months, I carefully researched and compared different chalets to try to find the one that best suited our budget and our needs.
A year later, my partner and I bought our first "chalet", which was in fact a country home located in the Eastern Townships in Austin, Quebec, 10 minutes away from the Owl's Head ski resort.
We were able to get a good deal on the property, but it needed quite a bit of work. During the renovation process, we fell in love with the area and decided to make it our permanent home.
And even though the chalet became our main home, we started renting the place on weekends and during the most popular times of the year to travellers who were looking for a unique and authentic outdoor experience.
The extra income from renting the property not only helped us pay for the mortgage, but also allowed us to travel and explore the world.
As word of our rental properties spread, I saw an opportunity to turn my passion into a business.
In 2019, we launched WeChalet, a platform that connects travellers with hosts who have properties available for rent in nature.
Our home was the very first property that we listed on WeChalet.
Putting Aside my Film Career to Lead WeChalet
Launching WeChalet ultimately pulled me away from working in film, as it required all of my focus and attention to get the tech startup up and running. Starting a business is not an easy task, and I had to devote all of my time, money and energy to making it a success.
Fortunately, since its inception, WeChalet has grown exponentially, and today is becoming one of the most popular platforms for renting property in nature in Quebec.
We just announced our biggest partnership yet with Air Transat, one of the biggest airlines in Canada. This partnership will allow us to offer WeChalet properties to Air Transat's travelers during the checkout process when they are purchasing plane tickets.
We are also looking to expand WeChalet beyond Quebec, in other Canadian and international territories.
This is an important step for our company, as it will allow us to reach new audiences and continue growing our business.
The Benefits of WeChalet for Both Hosts & Travelers
Being both a traveler and host myself, I have always been passionate about creating a platform that can connect the two groups together in nature.
For travellers, one of the key advantages of booking on WeChalet is that we offer a growing inventory of unique properties in beautiful natural settings, and we have some of the most flexible cancellation policies in the market.
Unlike many other rental platforms, WeChalet offers travellers the possibility of canceling their reservations free of charge over a period of up to 24 hours before their stay, providing peace of mind and flexibility in case of any unforeseen circumstances.
For hosts, another advantage of WeChalet is that it is free to list their properties on the platform. Our commission is also one of the lowest in the market, which means that hosts can maximize their revenue any time of the year.
This makes it an attractive option for chalet owners and property managers who want to earn some extra income by renting out their property in nature, without having to worry about any upfront costs.
We are committed to providing a fair and beneficial experience for both hosts and travellers, and WeChalet is also committed to protecting the environment.
For every booking made on the platform, WeChalet plants one tree with the help of One Tree Planted, and so far we have planted thousands of trees on reforestation projects in Quebec and British Columbia.
This not only helps to offset the carbon emissions generated by travel, but also helps to preserve and restore natural habitats.
The WeChalet Adventure Is Just Getting Started
I am excited to see where the journey of WeChalet will take us.
With the right team, proper financing, hard work, and dedication, the possibilities are endless for WeChalet. I am thrilled to see what the future holds for us and to continue building an iconic company that has a positive impact in the world.
To book a property on WeChalet, visit our website.
If you are interested in becoming a host, click this link for more information on how to list for free on our platform.
If you want to watch my film, the link will be available soon. 🐸🐸
Enjoy!
Dany Papineau
Founder CEO, WeChalet